In the second of our "getting to know" series, Harry McCormack gives us a peek into what makes him tick - from technical innovation to quality time outdoors.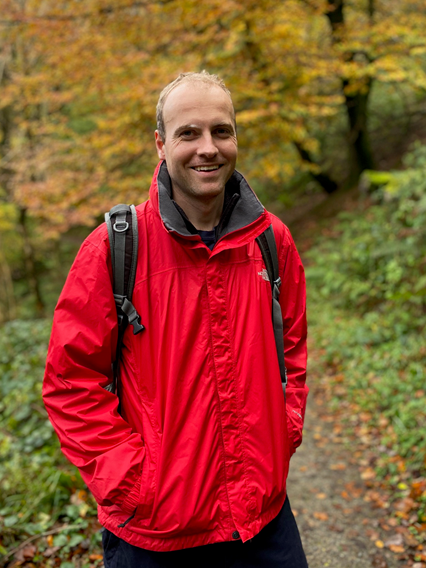 Q. How long have you been with Satellite Mapping, and how has your role evolved since you started?
I started almost 13 years ago, not long out of university, and worked on technical processing for satellite InSAR (measuring surface displacements). Over the years I did more business development and sales work, but always enjoyed the technical side the most. Then, mainly driven by the launch of the Sentinel satellites and their open-access data policy, I began concentrating on the requirements for large scale processing, from compute to AI. Now I lead a team of developers and data scientists, who when combined with our remote sensing expertise, can extract amazing information from all the data we have access to.
Q. Can you explain a little bit about the Innovation team at Satellite Mapping, and what you get up to?
We are responsible for exploring new technologies, data sources and methods and seeing if they can be integrated into our teams. This ranges from the infrastructure required for large scale computing, to deep learning, to implementing advanced algorithms. We support our existing teams, helping them to provide world leading technological solutions, and explore new areas the business is considering.
Q. Given the time you've been with the Satellite Mapping team, what have been the main positive step changes since you joined?
There has been a revolution in the amount of data available between when I started and now. While it poses some new challenges, it mostly represents huge opportunity and allows us to provide timely, reliable information on a much broader range of parameters. Of particular note is the open data policy many space agencies are adopting.
Q. What keeps your interest piqued at CGG Satellite Mapping and motivates you in your career?
I like problem solving and I like being ambitious, and I am lucky enough to work in a role where I get to experiment and help our other teams create the highest quality outputs they can. For me, the combination of trying out new ideas alongside the immediate requirements around solving challenges for clients, keeps me entertained. To take a quote from the West Wing "Never doubt that a small group of thoughtful and committed people can change the world."
Q. What are the main lessons you've learned in the past year or so?
I think the speed at which the world is changing, from technology to pandemics to climate change and biodiversity loss – everything just seems to be accelerating rapidly, and so it's important to stay positive in the face of these challenges.
Q. A good 'work-life balance' - do you feel you have achieved it?
Not always. I think it's natural for workloads, pressures and responsibilities to rise and fall, so I try to stay motivated during the busier periods, ensure there's light at the end of tunnel, and take advantage of quieter times when they come round. It's a work in progress, made more challenging by the pandemic for sure, but I always try to ensure I make time to be active; whether that's playing sports, running, cycling, or hiking...always followed by a drink and some good food.
If you want to learn more about what Harry and his team are up to in the AI world, or have any 'off-the-wall' ideas about how satellite data could help you, drop us a line!